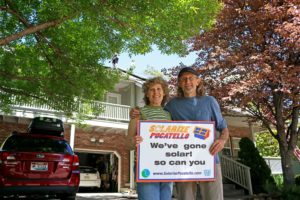 Solarize Pocatello, a clean energy campaign of the Portneuf Resource Council, is modeled after a national Solarize program that has run in communities around the country. Solarize was started in Portland in 2009. There are now more than 30 states and 100's of communities where successful Solarize programs have taken place including in Boise and in Ketchum.
Solarize Pocatello is a community-led organization of dedicated volunteers committed to helping the residents of Pocatello, Chubbuck, and the outlying communities purchase and install low cost, high quality photovoltaic power generation systems to reduce their energy costs and lower their carbon footprint.
Using the Solarize approach, non-profit organizations, homeowners, and businesses work together to competitively select an installer, negotiate low rates, and increase demand through a creative, limited time offer.
The goals of Solarize Pocatello are:
To educate local residents and businesses on the process and the benefits of going Solar.
To lower the complexity of finding a reputable installer and to reduce the cost of solar installations.
To raise awareness and increase the adoption of solar energy in Southeast Idaho.
To create economic development opportunities in the region.
And, lastly, to increase membership and community awareness of the Portneuf Resource Council and the Idaho Organization of Resource Councils.
Idaho is great for solar. From a solar irradiation point of view, Idaho has 4.5 equivalent hours of full sun. This is a calculated figure of merit and 4.5 is considered excellent for generating power from solar PV panels. Now is the perfect time to 'go solar'. The prices have dropped dramatically over the last 10 years. Additionally, this is the last year for the full 30% Federal Tax Credit. Solarize Pocatello makes the process easy and more cost effective.
The Solarize Pocatello project has 3 phases. The first phase is planning and contractor selection. Phase 2 is community outreach and the beginning of site assessments. And later in the summer, Phase 3 will be when most of the installations take place.
Solarize Pocatello Phase 1 accomplishments:
We partnered with several local organizations and created a top-notch team of volunteers committed to promoting solar and clean energy.
We developed a comprehensive project plan that includes schedule, budget and resources.
We created a website for signing up potential customers and built a database for tracking site assessments and signed contracts.
With our team of local experts, we created a detailed, technical 'Request for Proposal' that was distributed to 8 regional solar contractors. The team evaluated the proposals we got back, checked references, and selected the best installer, Intermountain Wind & Solar, based on cost, experience, service and reputation.
Working with our selected installer, the team put together a low cost, low risk, and transparent process for helping homeowners and businesses install solar systems.
With the help of IORC, we hired an intern to track site assessments and installations to make sure all of customers receive timely communication and regular updates.                                                      
We are now about one third of the way into Phase 2 of Solarize Pocatello. The Solarize team will reach out to Pocatello and the surrounding communities through a series of marketing activities.
Solarize Pocatello Phase 2 marketing plan:
Solarize Pocatello and our Solar Installer will host a series of 'free-to-the-public' educational workshops. These workshops will:

Give a tutorial on how the basics of how solar works,
Explain the benefits of going solar,
Present the details on incentives and finance options,
Show how the Solarize program creates a low risk, transparent process for the participants.

And Direct people to sign up through our website for a No Cost, No Obligation site assessment of their property.
The first two public workshops are complete and there are two more scheduled, one on June 19th and the last one July 18th.
In addition, we are tabling at events like the Portneuf Valley Environmental Fair, and the Saturday Farmer's Market, and a local business conference, Elevate Leadership Summit.
Solarize Pocatello is scheduled to give a number of presentations to local civic groups. For example, we will be presenting to the Centennial Rotary Club, American Falls Rotary Club, and the Civitan's.
We are also using traditional media and social media to help get the word out. We had an in depth radio interview on local public radio, we've had a couple TV spots, we've had front page headlines on the Idaho State Journal, we have taken out ads in the Idaho State Journal for the Solarize Pocatello Public Workshops, and we have a web page and a Facebook page.
Another important tool we will use is facilitating peer to peer communication through the use of Solar Ambassadors. Solar Ambassadors are volunteers who have already gone solar and will be available to answer practical and technical questions as well as show off their zero or near zero monthly electric power bills.
We are seeing tremendous interest in solar at our workshops and tabling events. Our results in the first seven weeks since our official launch on April 17th are outstanding. Our accomplishments and numbers as of May 30th:
186 people signed up for site assessments
25 Signed Contracts 
~$680,000 contract value
~200 kW in committed capacity
36 Quotes pending
26 Site Assessments pending
20 waiting on customer after initial contact
10-15 Initial contact pending
From a financial point of view, we have exceeded our goals and we are still less than half way through the sign up period! We have at least two more public workshops scheduled and numerous speaking engagements and tabling events planned.
We also hope to turn our success into a membership drive. When we distribute the yard signs to our signed contracts, we plan to ask our happy Solarize Pocatello customers to join the Portneuf Resource Council and Idaho Organization of Resource Councils.
Solarize Pocatello is off to a fantastic start and we expect to significantly exceed our goals by the end of the campaign.
By Mike Engle