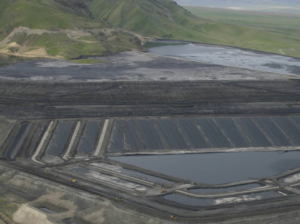 Idaho Organization of Resource Councils (IORC) has strong and urgent concerns regarding Governor Little's decision to sign House Bill 239 into law. This piece of legislation was designed by and for industries that care more about profit than protecting the environment and communities in which they operate.
Written by the Idaho Mining Association and sponsored by Rep. Marc Gibbs (R-Grace) and Sen. Mark Harris (R- Soda Springs), HB239 repeals a law passed in 2020 that implemented standards for phosphogypsum disposal areas and required the Idaho Department of Environmental Quality to set environmental and public health standards. Phosphogypsum disposal areas, also known as "gypstacks", are mountains of toxic waste products and wastewater ponds created by processing phosphate ore into the phosphoric acid used to make fertilizer.
Phosphogypsum stacks have recently been highlighted in national news as the state of Florida continues to deal with the environmental impact of a breach at a wastewater pond that leaked the radioactive material into Tampa Bay. Florida Governor Ron DeSantis declared a state of emergency while the Idaho Legislature pursued legislation to deregulate the storage of this toxic waste here at home. In Idaho, phosphogypsum processing can be found at the Itafos Conda plant near Soda Springs and at the Simplot Don Plant near Pocatello. Phosphogypsum and process wastewater contains carcinogens, heavy metals, and radionuclides that are leachable and have been released into groundwater and surface water from the Don Plant at the Eastern Michaud Flats Superfund Site. Additionally, radionuclides and toxic heavy metals can be spread through the air through dust events.
The willingness of Idaho lawmakers to put profits over public health has been seen over and over again during the 2021 Legislative Session. To put it simply, it's as alarming as it is disheartening. IORC stands in solidarity with our local chapter, the Portneuf Resource Council, firmly opposed to this new law and encourages our supporters to continue speaking to their elected officials about the importance of protecting our water supply for today and years to come.